Bacon Chestnut Appetizers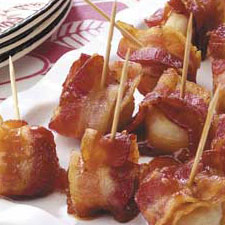 These appetizers are so good that you will want to serve them any time of the year and unfortunately, these disappear fast!
At a glance
Occasions:
Serves:
4-6
Ingredients
8-12 slices bacon
1/4 cup brown sugar
1 tsp. ginger
1/4 cup butter
1 tsp. Soya sauce
1 (6 oz.) can water chestnuts
Methods/steps
Mix: butter, brown sugar, Soya sauce and ginger to make dough-like pasta and add more brown sugar if too sticky.
Form into small balls, and insert a water chestnut into each ball.
Wrap each ball with a small 1/2 slice of bacon.
Broil until bacon crisps.
Serve hot!
Amount varies depending on how many water chestnuts
Additional Tips
10 min. prep.
---
---