Baked Chicken and Potatoes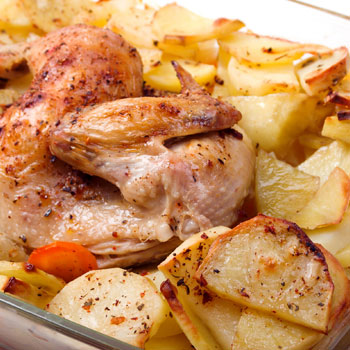 Thighs does matter, especially when you're talking about this mouth-watering baked chicken and potatoes dish. Shake off the dinner dreads and bake up this recipe.
At a glance
Cooking Method:
Difficulty:
Cooking Lite:
Healthy Eating:
Makes:
6 servings
Ingredients
4 to 8 chicken thighs
1 to 2 cups water
6 to 8 medium or large potatoes, peeled and chopped
3 to 4 carrots, peeled and chopped or 1 can sliced carrots, optional
1 onion, minced, optional
1 can whole kernels of corn, optional
1 to 2 tsp. poultry seasoning
2 tsp. salt
1 tsp. black pepper, optional
3 tsp. parsley flakes, optional
Methods/steps
Preheat oven to 350 degrees. In a large baking pan or roasting pan, put chicken in pan, place chopped potatoes around chicken. Add water, cover potatoes. Sprinkle poultry seasoning on chicken. Sprinkle salt on chicken and potatoes. Put other ingredients (optional) with potatoes. Cover with a foil and place in oven and bake for 30-45 minutes, or until water is bubbling, and chicken is almost done. Remove foil from the pan, stir the potatoes (and vegetables) gently. Put the pan back in oven without foil, and continue to bake for another 15 to 30 minutes, or until chicken is done and potatoes are tender.
---
---