Baked Cod Fillets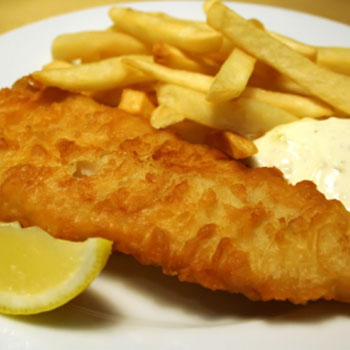 This outstanding fish dish will become a fast favorite in your house, too. Even the pickiest eaters will come back for 2nds, 3rds, 4ths... Your kids will absolutely devour these.
At a glance
Main Ingredient:
Cooking Method:
Course/Dish:
Healthy Eating:
Occasions:
Serves:
14
Ingredients
7 (8 oz.) cod fish fillets, frozen
10 oz. fish-fry mix
1/2 cup white flour
6 egg whites
1/2 cup non-fat milk
2 tbsp. vegetable oil
Methods/steps
Partially thaw cod fillets in refrigerator. Fish is ready to be prepared when it is just beginning to soften. (Times will vary.) Preheat oven to 475 degrees. Place oven rack at second-lowest setting. Line baking sheet with aluminium foil and brush foil lightly with oil (to prevent sticking and crisp fish). Rinse fish under cold water. With a very sharp knife, slice each fillet horizontally. In a shallow bowl, blend egg whites and milk. In a gallon-sized zip bag, combine fish fry mix and flour. Place one fillet into zip bag, close tightly, and shake carefully to coat; coat well. Reach into bag and pick up fillet. While still inside bag, shake fillet gently to remove any excess. Place fillet into egg mixture and coat well. Remove from egg mixture, shaking gently to remove any excess. Return fillet to Zip bag; seal tightly. Shake bag again to coat; coat well. Remove fillet from bag, making sure to remove any excess. Place onto baking sheet. Repeat for each fillet. Bake fillets for 6 minutes; turn over carefully. Bake another 6 minutes and remove from oven. Serve alone, on a good bun, or in your favorite wrap with lots of fresh veggies and low-fat condiments.
---
---