Barcelona-Style Omelet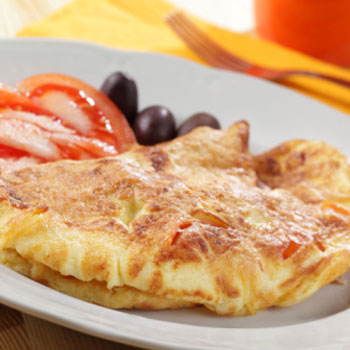 No Spain. No gain. This Spanish-style omelet is rich in flavor thanks to plenty of fresh vegetables. The prosciutto really drives the terrific taste home.
At a glance
Main Ingredient:
Cooking Method:
Difficulty:
Course/Dish:
Makes:
6 servings
Ingredients
1 large fresh plum (Roma) tomato
1 tbsp. extra-virgin olive oil
1/4 cup red bell pepper, diced
1/4 cup green bell pepper, diced
2 tbsp. yellow bell pepper, diced
Salt
Freshly ground black pepper
8 large eggs
1/4 cup pitted black olives
3 thin slices of prosciutto, thinly sliced
6 leaves fresh basil, cut crosswise into fine strips
Methods/steps
Preheat oven to 400 degrees.
Bring a small saucepan of water to a boil. Fill a small mixing bowl with ice and water. With a small, sharp knife, cut out the core of the tomato and, on its opposite end, score a shallow X in its skin. Place the tomato in a slotted spoon and lower it into the boiling water; leave until its skin begins to wrinkle, about 30 seconds. With the slotted spoon, immediately transfer the tomato to the ice water to cool. Peel the tomato with your fingertips and, if necessary, the knife. Cut it crosswise in half, remove its seeds with a fingertip, and then cut the tomato into small dice. Set aside.
Heat a heavy nonstick ovenproof skillet over medium heat. When the pan is hot, add the olive oil. When the oil is hot enough to swirl easily, add the peppers and sauté, stirring occasionally, until they start to caramelize, about 5 minutes and season with salt and pepper. Add the tomatoes and cook for 2 minutes more.
Meanwhile, break the eggs into a large bowl. Season with salt and pepper and whisk well. Add the eggs to the pepper-tomato mixture and stir constantly until curds start to form. Cook until the mixture has begun to set but is still fairly moist.
Remove the skillet from the heat and scatter the olives and prosciutto over the top. Put the skillet in the oven and cook until the omelet is completely set but still slightly moist, about 5 minutes more. Remove from the oven and sprinkle with the basil. Drizzle the top with extra-virgin olive oil and let the omelet sit for 5 minutes. Cut it into wedges and serve.
---
---