Beef & Fennel Stew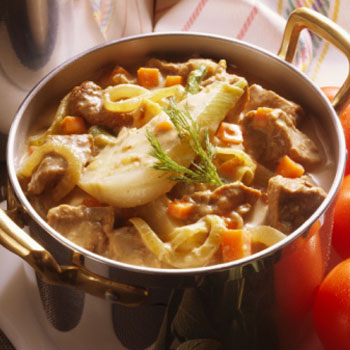 Talk about a fenn-omenal dish. This beef and fennel stew goes down so smooth. It's loaded with so many great-tasting ingredients you'll be stuffed after one bowl.
At a glance
Main Ingredient:
Cooking Method:
Difficulty:
Course/Dish:
Healthy Eating:
Ingredients
3 tbsp. all-purpose flour
1 lb. boneless lean beef stew meat, trimmed of visible fat and cut into 1 1/2-inch cubes
2 tbsp. olive oil or canola oil
1/2 fennel bulb, trimmed and thinly sliced vertically
3 large shallots, chopped
1 1/2 tsp. salt
3/4 tsp. ground black pepper
2 fresh thyme sprigs
1 bay leaf
3 cups vegetable stock
1/2 cup red wine
4 large carrots, peeled and cut into 1-inch chunks
4 large potatoes peeled and cut into 1-inch chunks
18 small boiling onions, halved crosswise
3 portobello mushrooms, brushed clean and cut into 1-inch chunks
1/3 cup finely fresh parsley, chopped
Methods/steps
Place the flour on a plate. Dredge the beef cubes in the flour. In a large, heavy saucepan, heat the oil over medium heat. Add the beef and cook, turning as needed, until browned on all sides, about 5 minutes. Remove the beef from the pan with a slotted spoon and set aside. Add the fennel and shallots to the pan over medium heat and saut until softened and lightly golden, 7 to 8 minutes. Add 1/2 tsp. of the salt, 1/4 tsp. of the pepper, the thyme sprigs and the bay leaf. Saut for 1 minute. Return the beef to the pan and add the vegetable stock and the wine, if using. Bring to a boil, then reduce the heat to low, cover and simmer gently until the meat is tender, 40 to 45 minutes. Add the carrots, potatoes, onions and mushrooms. The liquid will not cover the vegetables completely, but more liquid will accumulate as the mushrooms soften. Simmer gently until the vegetables are tender, about 30 minutes longer. Discard the thyme sprigs and bay leaf. Stir in the parsley and the remaining 1 tsp. salt and 1/2 tsp. pepper. Ladle into warmed individual bowls and serve immediately.
---
---