Best Osso Bucco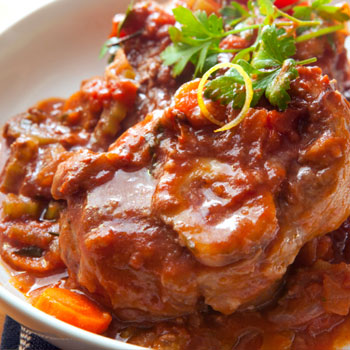 Feeling fancy? We've got the best laid dinner plans for you. Enjoy this appetizing Osso Bucco. Rich in flavor, it is the perfect way to please your dinner guests. They are certain to say shank you very much.
Ingredients
1 pork shank, boiled 2 hours with
½ chopped onion and ½ chopped carrot
1 oz. extra virgin olive oil
2 cloves fresh minced garlic
¼ lb. sliced mushrooms, divided
1 handful sun-dried tomatoes, chopped, divided
Methods/steps
Parboil rice 10 minutes; drain and set aside. In small pan, sauté a few minutes in olive oil the garlic, and half the mushrooms and tomatoes. Add wine and rosemary; cook 1 minute; remove rosemary. Add 4 oz. shank water; reduce to au jus. In larger sauté pan cook remaining mushrooms and tomatoes, cream, butter, and rice. Add shank water as needed until rice is desired firmness, about 10 minutes. Put shank on plate with rice; drizzle with rosemary au jus.
---
---