Black Bean Steamed Mahi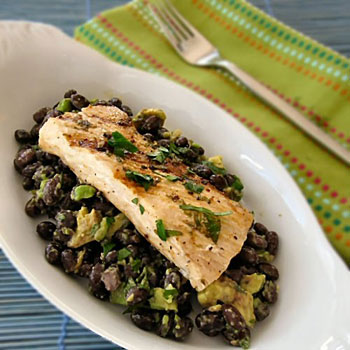 Not sure of how to cook your Mahi Mahi? Use your bean, your black bean that is. This phenomenal fillet is absolutely to die for. There's nothing fishy about it.
Ingredients
Salt and pepper, to taste 1 8-oz. mahi mahi fillet 1 tbsp. black bean paste 1 tsp. sesame chili oil 2 oz. sake, divided 6 tbsp. olive oil 1 tsp. sesame oil Scallion and ginger cut into slivers
Methods/steps
Lightly salt and pepper mahi. Combine black bean paste, 1 tsp. sesame chili oil and1 tsp. sake; place this mixture on mahi. Place fish in steamer, pour on remaining sake and steam 8 to 10 minutes. While mahi is steaming, combine olive and sesame oils and heat until smoking. Plate mahi with ginger and scallion slivers and pour smoking oil over fish.
---
---