Cajun Style Stuffed Grouper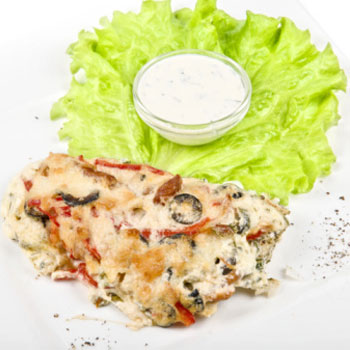 Come with me to the sea. Stuffed grouper is an absolutely magnificent treat for everyone involved. With a Cajun twist, there's nothing fishy about this group-er.
Ingredients
1/4 green pepper, small dice
1/4 onion, small dice
2 oz. garlic butter
1 1/4 oz. Andouille sausage, small dice
Meat from 8 crawfish, plus 1 whole cooked crawfish for garnish
1/4 cup panko (Japanese breadcrumbs)
Salt and pepper, to taste
1 8-oz. grouper filet
Lemon Hollandaise
Methods/steps
Sauté pepper and onion in garlic butter until transparent. Add sausage and crawfish meat; sauté 1 minute. Add breadcrumbs to bind and salt and pepper; form into ball shape. Split grouper down middle, 3/4 of the way through. Wrap fish around filling. Place in 400-degree oven for 10 minutes. Serve topped with Lemon Hollandaise and the cooked whole crawfish.
---
---