Carmen's Struffoli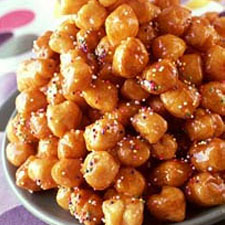 This Italian holiday dessert consists of sweet dough cut in tiny balls and fried. It's then rolled in honey and coated with multi-colored little round sprinkles and topped with candied peels of lemon and orange.
At a glance
Cuisine:
Main Ingredient:
Cooking Method:
Difficulty:
Course/Dish:
Occasions:
Makes:
12 servings
Ingredients
2 cups flour
1/2 tsp. baking powder
4 tbsp. sugar
4 eggs
2 tsp. vegetable oil
1 tsp. vinegar
1/2 tsp. vanilla extract
1 fluid oz. whiskey (rye, bourbon, or Canadian is fine but not Scotch)
3 cups honey (Traditionally we have always used Golden Blossom brand if not available use pure clover honey)
Oil for deep-frying
Multi colored little round sprinkles
¼ cup of candied peels of lemon and orange, chopped
Methods/steps
Mix all dry ingredients together in a large bowl.
Add all liquid ingredients (Except honey) to dry to form a dough.
Knead dough well to incorporate all ingredients.
For balls roll dough out in 1/4 inch round strips like pencils.
Cut the pieces at small intervals with an angle cut.
How far apart you make the cut is your judgment call, as the smaller the spacing the smaller the balls and vice versa.
Mom likes the look leaving them as is with the angle cut giving a unique shape to the balls as they fry.
If you prefer perfectly rounded balls, you can roll the pieces in the palms of your hands like miniature meatballs before frying.
For ribbons cut some of the dough in flat strips about 1/2 inch wide preferably using a crimped edge cutting wheel as it gives a fancy serrated edge to them.
Form loops or bow shapes with the ribbons and deep fry balls and ribbons separately until golden brown (ribbons as they are flat will cook quicker than the balls).
Drain on absorbent paper.
Heat honey in a deep pot until it starts to thin out and become pourable.
Remove from heat.
Dip bows and ribbons in warm honey and set aside.
Add balls to the honey and toss to coat.
Transfer balls to holiday platter and top with the ribbons and bows.
Or you can mound the balls to look like a Christmas tree and decorate with bows on the sides.
Sprinkle with multi colored sprinkles and top with chopped candied peels of lemon and orange.
Additional Tips
1 hour 30 min prep
---
---