Classic Lobster Thermidor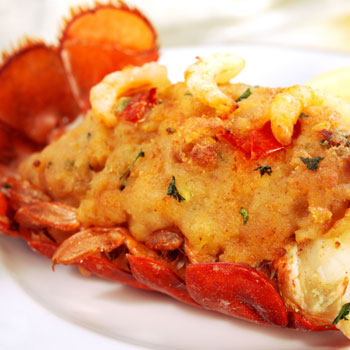 Here's one shell of a meal. Pamper yourself with this traditional dish that is perfect for special occasions. Go ahead... get your claws on some!
At a glance
Cuisine:
Main Ingredient:
Cooking Method:
Difficulty:
Course/Dish:
Occasions:
Serves:
1
Ingredients
8 oz. heavy cream
2 oz. brandy
3 mushrooms, sliced
4 green onions, chopped
Roux (2 oz. butter and 2 oz. flour)
4 oz. Gruyere cheese, divided
1 tsp. tarragon
Salt and pepper, to taste
Meat from 1- to 1 1/2-lb. lobster, in chunks
Sherried bread crumbs
Methods/steps
1. Combine lobster base, cream and brandy in saucepan. Bring to boil; reduce heat.
2. Add mushrooms and green onions; cook 10 minutes.
3. Add roux to thicken; cook 15 minutes.
4. Melt in half the cheese and add tarragon, salt and pepper.
5. Stir in lobster.
6. Place mixture in lobster shell.
7. Cover with bread crumbs and remaining cheese.
8. Bake at 350 degrees for 15 minutes and serve hot.
Additional Tips
To make roux, melt the butter in a saute pan and whisk in flour. Keep whisking over medium-high heat until the mixture turns light brown.
---
---