Cooked Celery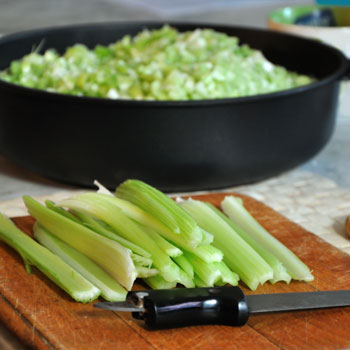 There's nothing wrong with being a stalker when it comes to this scrumptious veggie side. If you are searching for a dish that features celery as the main staple, look no further than this crunchy favorite.
At a glance
Cuisine:
Difficulty:
Course/Dish:
Serves:
4
Ingredients
6-7 celery stalks, washed & cut into 1" slices diagonally
3 tbsp. maple syrup
1 tbsp. butter
3/4 tsp. dill weed
1 env. vegetable broth, (optional)
Methods/steps
1. Add celery, maple syrup, dill-weed, butter, and vegetable broth in a medium sized pot. Add enough water to nearly cover ingredients.
2. Bring to a boil and then simmer until celery is tender to taste. If desired, begin with less water, stir occasionally and simmer until water is nearly gone.
---
---