Couscous Salad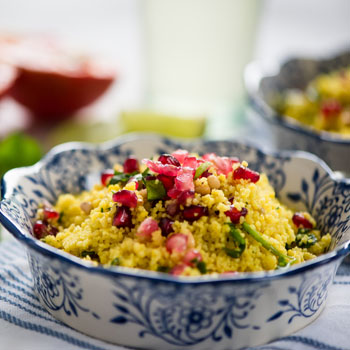 Pretty please with dried cherries on top... That's what you'll be saying when you get a taste of this couscous salad that's lacking lettuce but chock full of other goodies.
At a glance
Cooking Method:
Difficulty:
Cooking Lite:
Healthy Eating:
Makes:
4 servings
Ingredients
2/3 cup water
1/2 cup couscous, uncooked
1/3 cup dried cherries (tart or sour cherries), coarsely chopped
1/3 cup coarsely chopped carrots
1/3 cup chopped cucumber
2 green onions, sliced
2 Tbsp. aged balsamic vinegar or raspberry vinegar
1 Tbsp. extra-virgin olive oil
1 Tbsp. Dijon-style mustard
Salt and pepper to taste
Methods/steps
In a medium-size saucepan, bring water to a boil; stir in couscous. Remove from heat and let stand, covered, for 5 minutes. Uncover, fluff with a fork, and let cool an additional 10 minutes. Stir in dried cherries, carrots, cucumber, and green onions; mix well. In a small bowl, combine balsamic vinegar, olive oil, and mustard; mix well. Pour over couscous mixture; stir to coat all ingredients. Season with salt and pepper to taste. Serve chilled or at room temperature.
---
---