Crusty Beef Casserole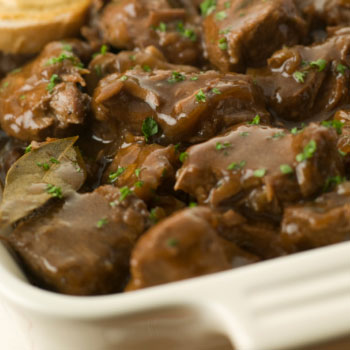 Talk about a divine and decadent dish. This crusty beef casserole fits the bill. On a frigid day, there's simply no better way to come in from the cold.
At a glance
Main Ingredient:
Difficulty:
Course/Dish:
Makes:
6 servings
Ingredients
2 lb. flank steaks, thick cut with fat trimmed off
3 tbsp. flour
1 1/2 tsp. sugar
1 tsp. salt
3/4 tsp. dry mustard
1/2 tsp. baking soda
1 1/2 tbsp. Worcestershire sauce
1 1/2 tbsp. vinegar
1 1/2 cups tomato juice
1/2 cup water
1 loaf French bread, cut in ½ inch slices
1 oz. butter, softened
1 clove garlic, crushed
1 tbsp. French mixed mustard
Chives, chopped
1 clove garlic Parsley
Methods/steps
CRUSTY TOPPING French bread cut in ½ inch slices –1 oz. - soft butter, 1 clove garlic, crushed. French mixed mustard chopped chives, garlic cloves or parsley Cut steak in pieces, 3 inch by 2 inch. Place in casserole. In a bowl mix all ingredients except crusty topping. Pour over beef, and cover tightly. Bake at 325 degrees for 2 hours. Combine butter; add garlic and mustard and herbs. Spread on one side of each bread slice (use sufficient slices to cover the top of casserole). Arrange bread, buttered side up, on meat, pushing slices firmly down to soak up juices. Return uncovered casserole to oven at 375 degrees for about 10 minutes or until bread is crisp and golden.
---
---