Delicious Shrimp Chowder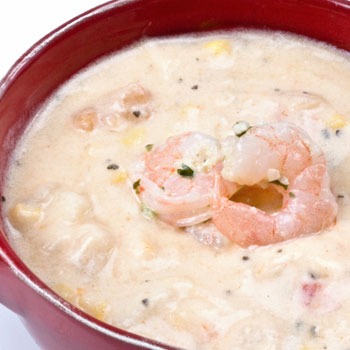 It's chowder time. When you are looking for a soup to bowl you over, search no further than this gourmet shrimp chowder that's sure to satisfy your hankering for a seafood stew. We promise it's loaded with appeal.
Ingredients
1 lb. red potatoes, peeled and cubed
2 1/2 cups reduced sodium chicken broth
3 celery ribs, chopped
8 green onions, chopped
1/2 cup sweet red pepper, chopped
1 1/2 cups fat-free milk
1/4 cup all-purpose flour
1/2 cup fat-free evaporated milk
1 1/2 lbs uncooked medium shrimp, deveined and peeled
2 tbsp fresh parsley, minced
1/2 tsp. paprika powder
1/8 tsp. cayenne pepper
1/8 tsp. pepper
1/2 tsp. Worcestershire sauce
Methods/steps
1. Place broth in a large saucepan. Add potatoes, celery, onions and red pepper and bring to a boil. Reduce heat. Cover and simmer for 13-15 minutes or until vegetables are tender.
2. Stir in milk. Gently mash vegetables with a potato masher, leaving some chunks of potatoes.
3. Combine flour and evaporated milk until smooth; gradually add to potato mixture. Bring to a boil. Cook and stir for 2 minutes or until thickened. Stir in the remaining ingredients. Return to a boil.
4. Cook and stir for 2-3 minutes or until shrimp turn pink.
---
---