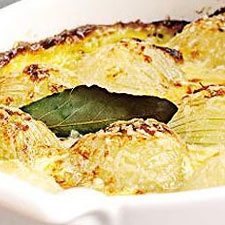 Easy Baked Onions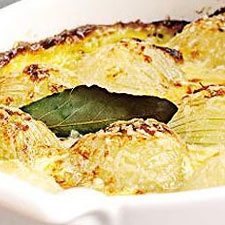 This onion-lovers' dish will bring tears to your eyes, it's so yummy. Try this casserole as a side dish to complement any meat.
Ingredients
2 layers chopped or sliced onions
1 can Campbell's Cream of Mushroom Soup
Milk (enough to soften soup)
Garlic powder
Grated cheddar cheese
Potato chips, crumbled
Methods/steps
1. Select a small to medium sized casserole or oven proof baking dish. Spray with non-stick spray or wipe with melted butter.
2. Peel, chop or slice enough onions to cover the bottom of the baking dish so that you will have a double layer of onions on the bottom. Sprinkle the onions with enough grated cheese to cover and a light sprinkle of garlic powder.
3. In a medium bowl, mix soup with enough milk to soften the soup to pouring consistency. Pour over the onion and cheese evenly. Sprinkle with crumbled potato chips.
4. Bake at 350 degrees for 30 minutes.
Additional Tips
It is even easier to make if you use a food processor to chop the onions.
---
---