Farsi Rice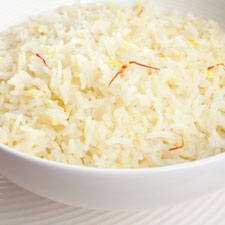 When you need to prepare a side dish for a large group, this saffron rice gets the job done. It's chock full of Middle-Eastern flavors and requires just a few ingredients.
At a glance
Cuisine:
Main Ingredient:
Cooking Method:
Difficulty:
Course/Dish:
Makes:
14 servings
Ingredients
5 cups dry rice, preferably Basmati
2 tbsp. plus 2 tsp. salt
1 cup butter
1 tbsp. plain yogurt
1/2 tsp. powdered saffron
2 tsp. boiling water
Methods/steps
In a bowl, wash the rice 5 times and then soak for 2 hours in lukewarm water to cover mixed with 2 tbsp. of the salt. Pour 10 cups water in a nonstick pot, add the remaining 2 tsp. salt and bring to a vigorous boil. Drain the water from the presoaked rice and add the rice to the boiling water. Stir, cover and bring back to a boil, boiling for 3 to 4 minutes. The rice should move freely and float to the top of the pot. Drain the rice in a colander, rinse with lukewarm water and taste. If the rice is salty, rinse with more water. In a large nonstick pot, melt the butter; add 1-cup water and stir. Set aside half of this mixture. Add the yogurt to the butter remaining in the pot and stir well. Gently spoon the rice on top of this mixture, forming a cone. Cover. Cook on medium heat until steam is visible, about 15 minutes. Cook for 15 minutes more, then turn the heat down to low and pour the remaining butter mixture over the rice. Wrap the lid of the pot tightly with a kitchen towel to prevent the steam from escaping and cook for another 45 minutes. Spoon 1 cup of rice from the top of the pot onto a plate and mix gently with the saffron mixture. Set aside. Mound the rice in the shape of a cone on a serving platter. Add saffron rice to the top before serving. Remove the crust from the bottom of the pan and serve separately, cut into squares or wedges.
Additional Tips
Ready in 2 hours
---
---