Foil Baked Potatoes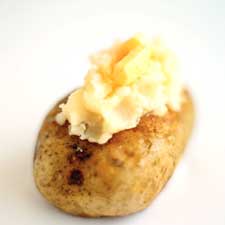 These are easy to prepare and tasty to eat. This recipe for flavorful potatoes is quite a treat. The combination of butter, salt and garlic powder really brings it home.
Ingredients
4 baking potatoes, scrubbed
4 tbsp. butter
4 tsp. garlic powder
2 tsp. salt
Methods/steps
1. Preheat oven to 400 degrees
2. Lay out 4 squares of aluminum foil. Cut each potato in half lengthwise, and place onto a square of aluminum foil. Put 1/2 tablespoon of butter onto the cut side of each half, then season with garlic powder and salt. Close the potato halves together, and wrap tightly in the aluminum foil.
3. Place in oven and baked potatoes directly on the oven rack for 40 minutes or until tender.
Additional Tips
This recipe assumes the use of medium-sized potatoes. If you use smaller or larger potatoes, adjust amount of butter and seasoning to fit.
---
---