Fudge Brownies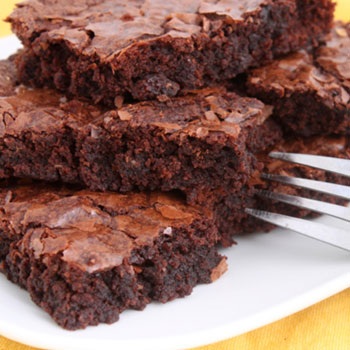 Love fudge? Love brownies? This recipe is sure to earn you some serious brownie points. Forget those store-bought brands. Instead, indulge in a slice of this chocolate heaven. It's sure to satisfy the chocolate lover in you.
Ingredients
1 cup butter
4 (1 oz.) squares unsweetened chocolate
2 cups white sugar
2 cups chopped walnuts
1 cup all-purpose flour
1 tsp. vanilla extract
1/2 tsp. salt
Methods/steps
1. Preheat oven to 350 degrees F. Grease a 9x13 inch baking pan.
2. In 3-quart saucepan over very low heat, melt butter and chocolate, stirring constantly. Remove from heat, and stir the sugar into the chocolate. Allow to cool slightly.
3. Beat in the eggs one at a time, stirring well after each, then stir in the vanilla. Combine the flour and salt; stir into the chocolate mixture. Fold in the walnuts. Spread the batter evenly into the prepared pan.
4. Bake in oven 30 to 35 minutes. Brownies are done when toothpick inserted into center come out clean. Cool in pan.
---
---