Grilled Salmon on Skewers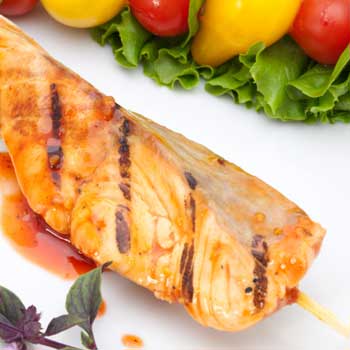 Something fishy is going on here, and it's these scrumptious salmon skewers. These are great for a healthy snack or an enticing appetizer. Packed with omega 3 fatty acids, these are rich in flavor and fat. So get your grill on!
Ingredients
1 lb. salmon fillet without skin 1/4 cup soy sauce 1/4 cup honey 1 tbsp. rice vinegar 1 tsp. minced fresh ginger root 1 clove fresh garlic, finely chopped 12 fresh lemon wedges 12 skewers Pinch of freshly ground black pepper
Methods/steps
Slice salmon lengthwise into 12 long strips, and thread each onto a soaked wooden skewer. Place in a pan. In a bowl, whisk together the soy sauce, honey, vinegar, ginger, garlic, and pepper. Pour over skewers, turning to coat. Let stand at room temperature for 30 minutes. When finished marinating, transfer marinade to a small saucepan, and simmer for several minutes. Preheat grill to medium-high. Oil the grill grate. Thread 1 lemon wedge onto the end of each skewer. Cook skewers on the grill for 4 minutes per side, brushing often with marinade, or until fish flakes easily with a fork.
---
---