Grilled White Fish and Scallops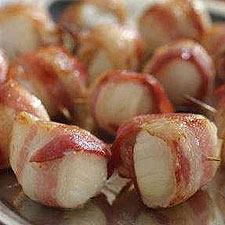 White fish is a phenomenal entree that can easily stand on its own. But when you serve it with scallops, it's really swimming in goodness.
Ingredients
2 tbsp. olive oil
1 tsp. lime juice
Salt and pepper
4 8-oz. white fish fillets
8 sea scallops
4 slices bacon, cut in half
8 toothpicks
1/2 cup barbecue sauce
½ pineapple cut in 1/2-inch cubes
1 sweet red pepper, medium dice
1/2 red onion, small dice
1 jalapeno pepper, small dice
1/2 cup lime juice
1/2 cup mango or papaya puree
1 cup raspberries
2 tbsp. sugar
Cilantro to taste
Methods/steps
Mix oil, lime juice, salt and pepper in bowl. Coat wahoo with mixture, cover and refrigerate at least 30 minutes. Wrap each scallop with ½ slice bacon; secure with toothpicks. Mix remaining ingredients, except barbecue sauce, in large bowl and refrigerate (may be made a day ahead). On a hot grill, cook wahoo and scallops, basting the fish with lime oil marinade. When scallops are near done (12-15 minutes), baste with barbecue sauce. Plate fish and top with 2 scallops and a scoop of relish.
---
---