High-Fiber Bran Muffins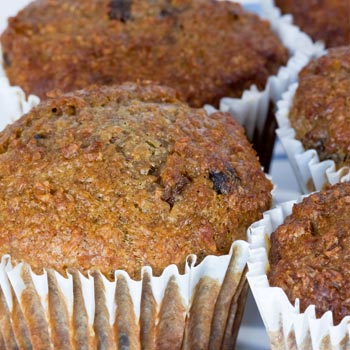 Ever notice how many baked goods are loaded with fat and calories? Well, not these muffins, man. Enjoy a bran new day with a bite of this high-fiber morning offering.
At a glance
Cooking Method:
Difficulty:
Course/Dish:
Cooking Lite:
Healthy Eating:
Makes:
6 muffins
Ingredients
2 cups whole-wheat flour
1 1/2 cups oat bran
1 1/2 cups raw bran
2 cups milk, or rice/soya milk
1/2 cup canola oil
1/2 cup honey
1/2 cup Sucanat, or dark brown sugar
3 eggs, slightly beaten
1 tbsp. baking powder
1 tsp. sea salt
2 medium apples, shredded
1 cup carrot pulp (from juice machine), or 3 carrots finely shredded
2 bananas, mashed
1 tsp. cinnamon
1 cup pecans or walnuts, chopped fine (optional)
1 cup raisins (optional)
Methods/steps
Preheat oven to 375 degrees. Beat oil, Sucanat, honey, carrot pulp, mashed bananas, shredded apples, eggs and milk together. Add the wheat and oat bran and let sit 10 minutes. Pre-mix the dry ingredients and fold into the bran mixture until just mixed (don't overmix). Add the pecans and raisins. Fill muffin tins with mixture (don't overfill) and bake for approx. 20 minutes.
---
---