High Fiber Energy Bars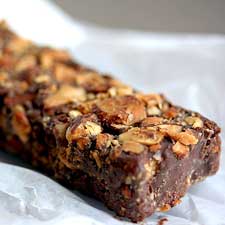 There's no need to waste countless dollars on high-fiber energy bars. These homemade ones do the job... and do it well.
At a glance
Main Ingredient:
Cooking Method:
Difficulty:
Course/Dish:
Healthy Eating:
Occasions:
Makes:
48 Bars
Ingredients
2 cups dried prunes, pitted
2/3 cup orange juice
1/2 cup chopped nuts
3/4 cup margarine, soft
3/4 cup packed brown sugar
1/4 cup honey
1 egg
1 1/2 cups all-purpose flour
1 1/2 cups rolled oats
1/4 cup wheat germ
1 tsp. baking soda
1/2 tsp. salt
Methods/steps
Combine prunes (or apricots) with the orange juice in a blender. Blend until almost smooth, scrapping down the sides of the blender a few times. Stir in the nuts; set mixture aside. In a large bowl, cream the margarine, sugar and honey. Beat in the egg. Mix in flour, oats, wheat germ, baking soda and salt to blend thoroughly. Grease a 9 × 13-inch baking pan. Spread a little less than half of the flour mixture evenly in the pan. Spread the prune mixture evenly over the mixture in pan, keeping the prune mixture to within 1/2 inch of the edges. Crumble the remaining flour mixture over the top to cover the prune mixture. Pat down gently. Bake in a preheated 350 degree oven 30-35 minutes or until browned and springs back to the touch. Cool on wire rack. Cut into bars about 1 by 2 inches each.
---
---