Marinated Antipasto Platter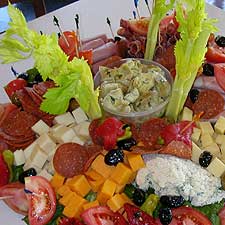 When it comes to a mouthwatering medley of vegetables, cheeses and meats, our recipe will have you wanting amore. This Italian appetizer can also work as a meal if you double the ingredients.
At a glance
Course/Dish:
Occasions:
Ingredients
8 oz. mushrooms, whole
1-pint cherry tomatoes
1 green pepper, cut into strips
5 oz. olives, super colossal
1/3 lb. sliced roast beef, cut into strips and rolled up and secured with toothpicks
12 oz. artichoke hearts, drained
11 oz. peperoncini peppers, drained
1/2 lb. provolone cheese, cubed
1/4 lb. salami, slice rolled up and secured with toothpicks lettuce leaves
Marinade Ingredients
1/2-cup olive oil
1/2-cup vinegar
2 tbsp. Dijon mustard
1 tsp. honey
Salt and pepper
1 tbsp. fresh basil, chopped
1/4 tsp. dried oregano
1 tsp. garlic, minced
Methods/steps
Combine marinade ingredients.
Marinade vegetables in container overnight.
Place green leaf or other decorative lettuce leaves on large platter. Arrange vegetables, meats, and cheeses decoratively over lettuce leaves.
Additional Tips
No cooking needed
---
---