Marinated Pork with Apricots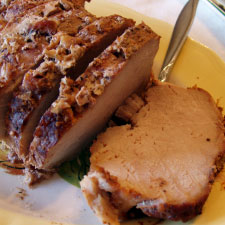 Pork loin is such a moist and juicy meal when prepared in the proper fashion. Once you've made the apricot marinade, allow the loin to baste in it for at least four hours.
At a glance
Main Ingredient:
Cooking Method:
Difficulty:
Course/Dish:
Makes:
8 servings
Ingredients
1 center-cut pork loin roast (about 3-1/2 lb.)
1-1/2 cups cranberry-apple juice, divided
1 cup chardonnay or other dry white wine
1-1/2 tsp. ground ginger
1 tsp. ground cardamom
2 tbsp. apricot preserves
1/4 cup water
1 tbsp. plus 1 tsp. cornstarch
1/2 cup dried cranberries
1/2 cup chopped dried apricots
2 tbsp. golden raisins
Methods/steps
Place pork roast in large resealable food storage bag and combine 1-cup cranberry-apple juice, chardonnay, ginger and cardamom in medium bowl. Pour over roast, turning to coat. Seal bag. Preheat oven to 350 degrees. Remove roast from marinade; reserve marinade and place roast in roasting pan. Pour marinade over roast. Bake, loosely covered with foil, 1 hour. Remove foil; continue baking 30 minutes or until internal temperature of roast reaches 165 degrees when tested with meat thermometer inserted into thickest part of roast, not touching bone. Transfer roast to cutting board; cover with foil. Measure juices from pan. Add enough remaining cranberry-apple juice to equal 1-1/2 cups. Combine juices and apricot preserves in small saucepan. Stir water into cornstarch in small bowl until smooth; stir into juice mixture. Bring to a boil over medium heat. Cook until thickened, stirring frequently. Add dried cranberries, apricots and raisins; cook 2 minutes. Remove from heat. Cut roast into thin slices. Drizzle some sauce over roast; serve with remaining sauce and garnish.
---
---