Middle Eastern Cucumber-Yogurt Soup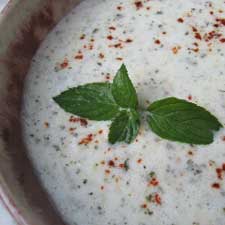 When you're hardly in the mood to slave over a hot stove, chill out with this Middle Eastern cucumber soup. It's simply divine on its own or with a traditional meal.
Ingredients
2 large cucumbers, peeled and seeded
2 cups plain low-fat yogurt or soy yogurt
1/4 cup finely chopped mixed fresh herbs (such as dill, parsley, and mint), or more to taste
1 1/2 cups low-fat milk, rice milk, or soymilk, or as needed
1 tsp. natural granulated sugar
1/2 tsp. ground cumin
Salt and freshly ground pepper to taste
Juice of 1/2 lemon
Methods/steps
Grate the cucumbers on a coarse grater, and then place them in a colander. Place the colander over the container in which you will serve the soup. Salt the grated cucumbers lightly and let stand for 30 minutes (the juice from the cucumbers will drain into the container and the cucumbers themselves will become pleasantly crisp).
Place the cucumbers in the container with the cucumber juice. Stir in the yogurt, herbs, and enough milk to give a slightly thick consistency. Stir in the sugar and seasonings, then add the optional lemon juice if you'd like an extra tangy flavor. Serve at once or refrigerate until needed.
Additional Tips
No Cooking needed
---
---