Neopolitan Pizza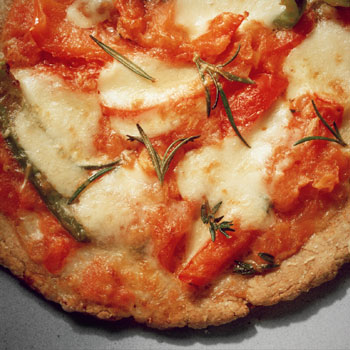 Talk about a pizza heaven. This homemade pie is a real special delivery that will have you swearing off the store-bought brands. Enjoy a slice of heaven tonight!
At a glance
Cuisine:
Main Ingredient:
Cooking Method:
Difficulty:
Course/Dish:
Makes:
One 11 inch pizza
Ingredients
1 cup ripe tomatoes, seeded, drained and cut into strips. 5 tbsp. olive oil Salt 3 medium cloves garlic (to taste), peeled and sliced very thin 2 tsp. oregano 1 cup sliced mozzarella Pizza Dough
Methods/steps
Place oven rack at top of oven. Use a baking stone or quarry tiles to line the oven rack. Preheat oven to 450 degrees. (at least 30 minutes) Roll out the pizza dough on a floured surface, turning occasionally, into a circle 10- 11-inches in diameter - until it is about 1/4" thick. Pinch the outside rim of the circle to create a slightly raised edge to retain the sauce. Place the pizza on a floured baker's paddle, or a thick piece of cardboard. When the oven is hot and you are ready to bake the pizza: Spread the tomato sauce on the dough. Sprinkle with 2 or 3 pinches of salt, the garlic slivers and oregano. Top with cheese. Slide the pizza onto the baker's stone or tiles. Bake for 8-12 minutes, until the outer edge is a deep golden brown.
There's more where this came from. Check out more healthy, delicious pizza recipes.
---
---