No-Crust Tiny Quiches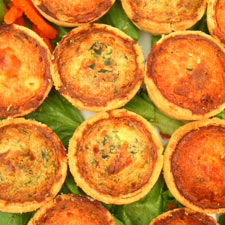 One of the most appealing aspects of these tiny quiches is that you can add the ingredients of your choice to each separate tin. So there's something to satisfy every body.
At a glance
Main Ingredient:
Cooking Method:
Difficulty:
Course/Dish:
Makes:
24 muffins
Ingredients
12 eggs
1/4 cup milk
1 tsp. onion powder
1 tsp. paprika
1/2 tsp. cayenne
Salt
Pepper
8 links pre-cooked sausage
8 slices pre-cooked bacon
1 onion, thinly sliced
1 bell pepper, thinly sliced
8 oz. mushrooms, thinly sliced
8 oz. shredded cheese
Butter, for pan
Cooking spray
Methods/steps
Preheat oven to 350 degrees. In large skillet, melt butter and sauté onion, pepper and mushroom (you may do this separately if you want to make different kinds of quiches). Mix eggs, milk, and spices. Slice the sausage links and cut bacon into bite-size pieces. Spray muffin tins. In each tin, add whatever fillings you would like (onion, pepper, mushroom, cheese, meat). Ladle in the egg until the fillings are just covered (not too close to the top). Bake about 10-15 minutes until fluffy and slightly brown. Remove from oven and serve warm!
Additional Tips
Ready in 20 min
---
---