Oven Fried Fish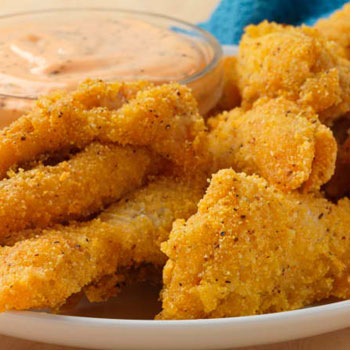 There's no reason to scale back enjoying seafood, especially when you can prepare this delicious fish dish. This "fried" favorite has all the flavor without the fat. Needless to say, it's swimming in goodness.
At a glance
Main Ingredient:
Cooking Method:
Course/Dish:
Healthy Eating:
Occasions:
Ingredients
Cooking spray
4 (4 oz.) fish fillets
3 tbsp. seasoned bread crumbs
3 tbsp. cornmeal
1/4 tsp. celery salt
1/8 tsp. ground red pepper
1 tbsp. canola oil or peanut oil
1 egg white, slightly beaten
1/2 tsp. water
4 lemon wedges
Methods/steps
Rinse and pat each fillet dry with paper towels. Measure the thickness (thickest place) of your fish fillets and pre-heat oven to 400 degrees. Stir together the breadcrumbs, corn meal, celery salt, and red pepper. Add the canola oil (or peanut oil) to this mix and blend with a fork. Set aside. In a small bowl, beat the water and egg white together and then brush one side of each fillet with the egg white. Dip each fillet in the breadcrumb mixture on the egg white side. Spray a baking pan with the cooking spray and place the fillets, crumb side up, in the pan. Bake, uncovered, for 6-8 minutes for each 1/2" thickness of fish, or, until the fish flakes easily with a fork. Serve with a lemon wedge on the side.
---
---