Poached Fish with Special Sauce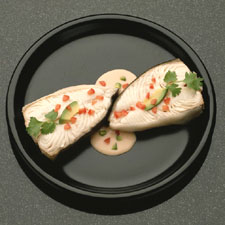 This is a traditional Jewish recipe. With a strong pomegranate sauce, there's nothing fishy about this dish that's not just great for holidays, but any other day of the year as well.
At a glance
Makes:
4 servings
Ingredients
4-lb. whole pan-dressed fish, like red snapper, sea bass, or trout
Salt to taste, ground black pepper to taste
5 tbsp. butter, melted, or vegetable oil
About 1 cup pomegranate sauce (recipe below)
1/4 cup pomegranate seeds or chopped fresh parsley for garnish
POMEGRANATE SAUCE:
4 to 5 medium pomegranates (about 8 oz. each)
2 tbsp. minced yellow onion
2 tbsp. chopped fresh basil
2 tbsp. chopped fresh coriander
1 clove garlic, minced
Methods/steps
Preheat the oven to 375 degrees. Set aside a baking dish large enough to fit the fish. Sprinkle the fish with the salt and pepper and place in the baking dish. Drizzle with the butter or oil. Add enough water to almost cover the fish. Place in the oven and poach, basting occasionally, until tender, about 50 minutes. Transfer the fish to a serving platter and drizzle with the pomegranate sauce. Garnish with the pomegranate seeds or parsley. This is frequently served with fried eggplant slices.
SAUCE: Cut the fruit in half. Squeeze the juice into a strainer and discard the hard white kernels. Boil the pomegranate juice until reduced almost by half. Add the onion, basil, coriander, and garlic and let cool.
Additional Tips
Ready in 1 hour
---
---