Prosciutto-Rolled Pork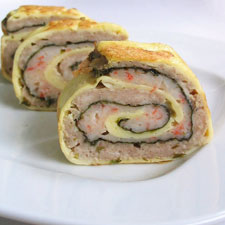 Pork is the other white meat, but one taste of this roll and you'll say it's "the" white meat. Stuffed with cheese and prosciutto, there are plenty of layers to this dish.
At a glance
Main Ingredient:
Cooking Method:
Difficulty:
Course/Dish:
Makes:
3 servings
Ingredients
2 pork tenderloins (8 oz. each)
4 oz. Boursin cheese
6 oz. prosciutto, 2 slices
1 tbsp. olive oil
2 sheets puff pastry
1 egg, beaten
1 tbsp. water
Methods/steps
Prepare tenderloins, trimming all silver skin and the thin tail at the end (reserve tail end for another use). Butterfly them for stuffing, making a 1-inch deep incision down the length of each - do not cut all the way through. Stuff each tenderloin with half the Boursin. Roll tenderloins in prosciutto. To do this, lay half the prosciutto slices in a single layer, overlapping them slightly. Place stuffed tenderloin at the base of the prosciutto and roll to cover. Do the same thing with the second tenderloin. Sear in 1 tbsp. olive oil in a large skillet over medium-high heat until prosciutto is brown and crisp on all sides, 5-8 minutes. Chill thoroughly. Thaw two sheets puff pastry and roll each to a 16 x 12 inch rectangle. Wrap pork and transfer to a parchment-lined baking sheet. Combine egg and water and brush wrappers with mixture. Then decorate with pastry vines and cutouts (leaves/stems). Cover with plastic; chill 1 hour or up to 24 hours. Preheat oven to 400 degrees with rack in lower third. Brush with more egg wash for good browning; bake tenderloins 30-35 minutes or until golden, to about 170 degrees. Let rest 5 minutes before slicing. To serve, trim off the ends (they're doughy), and then slice into 1 1/2 inch thick pieces.
---
---