Stuffed Ham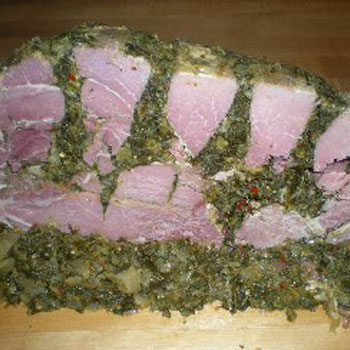 This recipe is all about breaking tradition or making tradition. There really is no place like ham for the holidays -- so give this unconventional stuffed ham a try at Christmas, Easter or any other major gathering.
At a glance
Cuisine:
Main Ingredient:
Cooking Method:
Difficulty:
Course/Dish:
Occasions:
Serves:
12
Ingredients
3 large green cabbages, cored and fine chop
3 pounds kale, fine chop
4 lbs. onions, fine chop
4 ribs celery, fine chop
2 Tbsp. cayenne or crushed red pepper
1 Tbsp. black pepper
2 tsp. mustard seed
1 Tbsp. salt
1 corned bone-in ham (about 22 pounds, give or take)
Methods/steps

1)-Mix together all ingredients except ham.
2)-Cut an "X" measuring 1 inch square and 2 inches deep on underside of ham. Fill "X" with stuffing until no more will fit. Continue cutting "X's" about 1/2 to 1 inch apart all over ham, stuffing them as they are cut.
3)-Center ham on a 4-foot long piece of double-thickness cheesecloth and place any remaining stuffing on top of ham. Wrap cheesecloth around ham and tie ends together to hold stuffing in place.
4)-Place ham in a large stockpot and add enough water to cover. Place lid on pot and bring liquid to a boil over high heat. Reduce heat to low and continue to cook ham for 20-25 minutes per pound of ham or till internal temperature reaches 160 degrees, adding water as needed to keep ham covered.
5)-Remove pot from heat and allow ham to cool for an hour in the cooking broth.
6)-Transfer ham to a large colander or a rack to drain for about 1 hour.
7)-Remove and discard cheesecloth and place any extra vegetable stuffing on top of ham in a serving dish.
8)-To serve, slice ham and accompany with vegetable stuffing.
---
---