Super Fruity Almond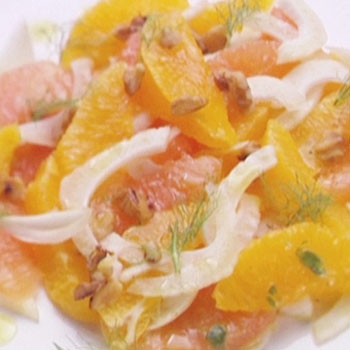 This recipe offers a taste of the tropics. The combination of oranges and grapefruit blend in a tasty, tarty fruit salad that is second to none.
Ingredients
3 large navel oranges
1 medium red grapefruit
1 medium white grapefruit
1 small lemon
1 small lime
1/3 cup sugar
1/8 tsp. almond extract
2 tbsp. sliced almonds, toasted
Methods/steps
Grate enough peel from the oranges, grapefruit, lemon and lime to measure 1 tbsp. of mixed citrus peel; set peel aside. To section citrus fruit cut a thin slice off the bottom and top of the oranges, grapefruit, lemon and lime. Place each fruit cut side down on a cutting board. With a sharp knife, remove peel and white pith. Holding fruit over a bowl, slice between the membrane for each section and the fruit until the knife reaches the center; remove sections and place in a glass bowl. Set 1/2 cup juice aside. In a small saucepan, combine the sugar and reserved peel and juice. Bring to a boil. Reduce heat; simmer, uncovered for 10 minutes. Cool; stir in extract. Pour over fruit. Refrigerate overnight and before serving sprinkle with almonds.
Additional Tips
Ready in 35 min
---
---