Two Potato Salad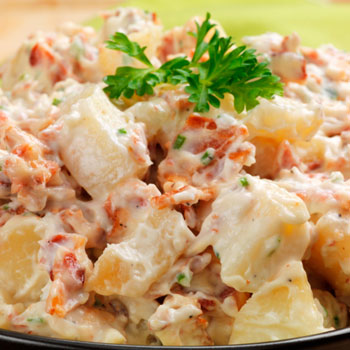 One potato, two potatoes give this tradional cold salad a scrumptious twist. The preparation can be done every bit as easily. However, the addition of sweet potatoes make this side even more delectable. See why it has plenty of appeal.
Ingredients
1 sweet potato
4 eggs
2 stalks celery, chopped
3/4 cup mayonnaise
1/2 onion, chopped
1 tbsp. prepared mustard
1 1/2 tsp. ground black pepper
1 tsp. salt
Methods/steps
1. Boil a large pot of salted water. Add potatoes and cook for about 30 minutes or until they start to become tender. Drain and allow to cool, then peel and dice.
2. Put eggs in a saucepan and cover with cold water. Bring water to a boil. Cover, remove from heat, and let eggs stand in hot water for 10 to 12 minutes. Remove from hot water and allow to cool, then peel and chop.
3. Combine the potatoes, eggs, celery and onion.
4. Whip together the mayonnaise, mustard, salt and pepper. Add to potato mixture, mix well to coat. Refrigerate and serve chilled.
Additional Tips
If you want to make it a little healthier without sacrificing much taste, use 3/8 cup mayonaise and 3/8 cup light sour cream.
---
---