Tex-Mex Slaw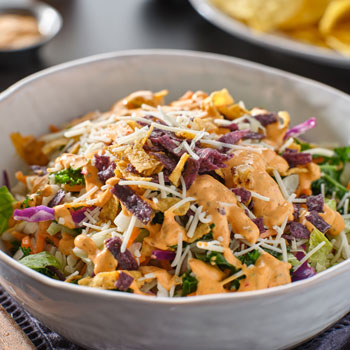 When you grow bored of the same old salads, go west...as in southwest. This scrumptious southwestern salad can double as a main dish. Toss in some grilled chicken for a high-protein punch. Lettuce entice you with this enjoyable offering.
At a glance
Course/Dish:
Healthy Eating:
Occasions:
Ingredients
3 cups (about 9 oz.) shredded green cabbage
1 cup (about 3 oz.) shredded purple cabbage
2 large sweet red peppers, diced
2 medium carrots, grated
4 large scallions, chopped
1 15-oz. can organic black beans, drained and rinsed
1 15-oz. can organic whole sweet corn, drained or 1-1/2 cups cooked fresh corn
2 cups shredded or diced cooked chicken (optional)
Salt to taste
Creamy Tomato Dressing
1 pound juicy, vine-ripened tomatoes (about 3 medium), coarsely chopped
1-cup yogurt (I use low fat or nonfat)
1-cup sour cream (I use low fat)
3 tbsp. apple cider vinegar
3 cloves garlic, peeled & chopped
1 tbsp. ground cumin, preferably freshly ground
1 tsp. ground coriander seeds, preferably freshly ground
1 tsp. chili powder (or more to taste)
1/2 tsp. salt
Methods/steps
In a large bowl, combine green cabbage, purple cabbage, red peppers, carrots, black beans, and corn. Stir in chicken if desired. Add 2 cups dressing and mix well, adding another 1/2 cup dressing if desired. Salt to taste. Serve immediately, or for best flavor, chill for several hours or overnight. Slaw will keep in the fridge for 2 to 3 days.
Dressing: Combine all ingredients in a blender and blend until smooth, adding a little more tomato if it's too thick. Store in refrigerator for up to 3 days.
---
---