Tomato Rice Pilaf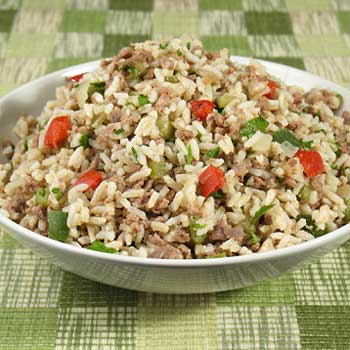 Here comes the sun... dried tomatoes, that is. This recipe takes rice dishes to another level by making the sun-dried tomatoes the featured act. Serve along with chicken, fish or beef and it will definitely transform a good meal into a great one.
At a glance
Makes:
4 servings
Ingredients
1 tbsp. olive oil 1/2 small onion, minced 1 large garlic clove, minced 1/4 cup sun-dried tomatoes, chopped (I use the ones soaked in olive oil) 1/8 tsp. salt 1/4 tsp. fresh ground pepper 1 tsp. lemon juice 2 bouillon cubes 2 cups water 1 cup jasmine rice
Methods/steps
Heat olive oil over medium heat. Add minced onion and garlic and saute for 2 minutes. Add the sun-dried tomatoes and saute another minute. Add the rice and saute one minute. Add the salt, pepper, bouillon cubes and water and stir. Cover and bring to a boil. Reduce heat when boiling and simmer 15 minutes. After 15 minutes, remove from heat and stir in the lemon juice. Cover and let steam 15 minutes.
---
---