Ten Things You Can Do To Decrease Office Stress
| | | | |
| --- | --- | --- | --- |
| | | | |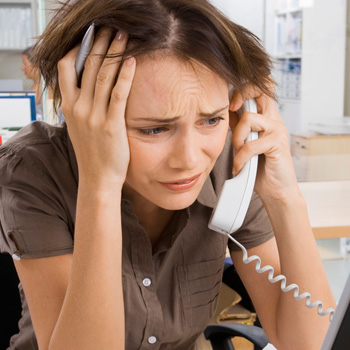 By Chris Le Roy
The world we live on is nothing but a mound of chaotic pressure that is building to the point it bursts like a volcano. We are bombarded with pressure from our employers, our customers and families to the point where some people actually do break. Most of us today in professional lives spend between 8 and 16 hours a day at the office, which equates to almost two-thirds of our lives being in a place we really do not want to be in, but there are things you can do to decrease the stress in your office.
Remember this, what we call stress, is really what we put on ourselves. Whilst other people can influence the way we feel, ultimately we are the ones who choose whether we are going to be stressed or not. You are in control of how you are going to feel, no one else. Stress as such is going on in our heads, so the real secret to de-stressing is to find things that would make you happy and content within.
#1. Have a Photo Of The Happiest Time In Your Life
Think back through your life, what is the happiest moment in your life. It could be the birth of your child, getting married, going out on a fantastic date, visiting some outstanding place or maybe it is when you bought your puppy dog but no matter what it is, you will almost certainly have a photo of that time. Take that photo and put it on your desk to remind you of those happy times as this will be one of the tools you need to beat stress in your office.
The happiest time in my life, and where I felt like the luckiest man in the world, was the day my wife stepped out of the limousine at the church for our wedding. I had never seen my wife look so beautiful and I made sure when I felt those feelings that I would remember them forever. So on my desk at work, I have a picture of my wife getting out of the limousine and each time I feel stressed I simply take a few moments to look at that picture and remember that moment in time. You brain is an amazing part of your body, no matter how many times I look at that photo, my brain releases the same feelings I had on the day and helps me snap out of feeling stressed.
| | | | |
| --- | --- | --- | --- |
| | | | |
---