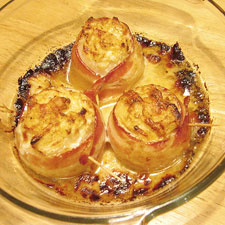 Ingredients
For 6 people
3

large sweet onions

1

cooking spray

2

ounce(s)

balsamic vinegar

1

tablespoon(s)

olive oil

1

teaspoon(s)

dried thyme

1/2

teaspoon(s)

dried basil

1/4

teaspoon(s)

salt

1/8

teaspoon(s)

pepper
Directions
Preheat oven to 450 degrees.
Peel onions, leaving roots intact and cut each onion into 6 wedges.
Place onion wedges in an 11 x 7-inch baking dish coated with cooking spray. Combine vinegar and remaining ingredients in a small bowl; pour vinegar mixture over onion wedges, tossing gently to coat. Cover and bake at 450 degrees for 25 minutes and then uncover and bake an additional 45 minutes or until tender.

Ready in 80 min
Nutrition facts
Kcal: 71.45 kcal
Fibers (g): 1.44g
Sodium (mg): 100.15mg
Carbs: 12.3g
Fat: 2.39g
Saturated fat (g): 0.35g
Proteins: 0.87g