Baked Zucchini with Bacon & Cornbread
Zero in on this excellent zucchini recipe. Forget the main course. Bacon, colorful veggies and cornbread combine to make this side dish the star of supper. Serve with chicken, ribs or whatever you like. It's a fantastic fit. Incredibly moist and delicious get ready to add this to your favorites list.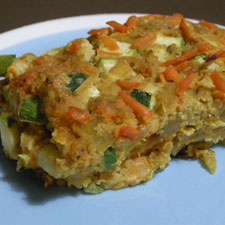 Ingredients
For 8 people
6

bacon slices

1

medium onion, chopped

1/2

red bell pepper, chopped

1/2

green bell pepper, chopped

3

celery ribs, chopped

2

garlic cloves, minced

1

cornbread stuffing mix

1

cup(s)

milk

3

cup(s)

large zucchini, shredded

1

large egg, lightly beaten

1/2

cup(s)

Cheddar cheese, shredded
Directions
Cook bacon in a large skillet over medium heat until crisp; remove bacon, reserving 2 tsp. drippings in skillet. Crumble bacon, and set aside.
Sauté onion and next 4 ingredients in reserved drippings over medium-high heat until tender.
Stir together stuffing mix, seasoning packet, and milk; let stand 10 minutes. Stir in bacon, sautéed vegetables, zucchini, and egg; spoon into a lightly greased 11- x 7-inch baking dish.
Bake at 350 degrees for 30 minutes; sprinkle with shredded cheese. Cover and bake 20 more minutes.

Ready in 1 hour and 15 min
Nutrition facts
Kcal: 181.55 kcal
Fibers (g): 2.23g
Sodium (mg): 463.91mg
Carbs: 23.85g
Fat: 5.62g
Saturated fat (g): 2.56g
Proteins: 8.67g