Best Cod Chowder
This fish dish is off the hook in deliciousness! The seafood chowder is filled with savory vegetables and chunky cod. It is, by far, one of the best soups you'll ever taste. When we say it's going to bowl you over, we mean it. You'll love every spoonful.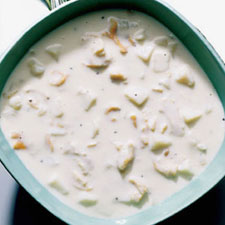 Ingredients
For 8 people
2

tablespoon(s)

vegetable oil

1/4

cup(s)

onion, coarsely chopped

1/2

cup(s)

celery, coarsely chopped

1

cup(s)

carrots, sliced

2

cup(s)

potatoes, raw, peeled, cubed

1/4

teaspoon(s)

thyme

1/2

teaspoon(s)

paprika

2

cup(s)

bottled clam juice

1

teaspoon(s)

whole peppercorns

1/8

teaspoon(s)

bay leaf

16

ounce(s)

fresh or frozen cod cut into 3/4–inch cubes

1/4

cup(s)

flour

3

cup(s)

low fat milk

1

tablespoon(s)

fresh parsley, chopped
Directions
Heat oil in large saucepan. Add onion and celery, and sauté for about 3 minutes.
Add carrots, potatoes, thyme, paprika, and clam broth. Wrap peppercorns and bay leaf in cheesecloth. Add to pot. Bring to boil, reduce heat, and simmer for 15 minutes, then add fish and simmer for an added 15 minutes, or until fish flakes easily and is opaque.
Remove fish and vegetables. Break fish into chunks. Bring broth to boil and continue boiling until volume is reduced to 1 cup. Remove bay leaf and peppercorns.
Shake flour and 1/2 cup low fat milk in container with tight-fitting lid until smooth. Add to broth in saucepan, along with remaining milk. Cook over medium heat, stirring constantly, until mixture boils and is thickened.
Return vegetables and fish chunks to stock and heat thoroughly.
Serve hot, sprinkled with chopped parsley.
Nutrition facts
Kcal: 190.66 kcal
Fibers (g): 3.02g
Sodium (mg): 392.44mg
Carbs: 17.17g
Fat: 5.72g
Saturated fat (g): 1.16g
Proteins: 18.6g