Braised Short Ribs
When you're short on energy -- and ribs -- these braised babies are the answer to your dinner prayers. Break out this recipe and prepare yourself for the ultimate ribbing.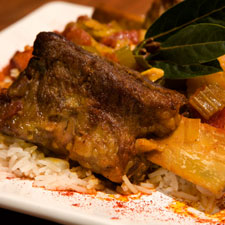 Ingredients
For 4 people
2

tablespoon(s)

olive oil

72

ounce(s)

beef short ribs

1

cup(s)

carrots chopped

1

cup(s)

onions chopped

1

cup(s)

celery chopped

2

tablespoon(s)

minced garlic

1/4

cup(s)

honey

8

tablespoon(s)

red wine vinegar

4

cup(s)

chicken broth

25 1/2

ounce(s)

dry red wine

1/2

cup(s)

red port wine

1 1/2

tablespoon(s)

chopped fresh thyme

1/4

teaspoon(s)

bay leaves

3

tablespoon(s)

butter, room temperature

1/10

cup(s)

all-purpose flour
Directions
Preheat oven to 350 degrees. Heat oil in large pot over high heat. Sprinkle ribs with salt and pepper. Working in batches, brown ribs on all sides. Return all ribs to pot. Add carrots, onion, celery and garlic; cook 5 minutes, stirring occasionally. Add honey; cook 2 minutes. Add vinegar; boil until most liquid is absorbed, about 8 minutes. Add broth, red wine, port, thyme and bay leaf; boil 5 minutes. Cover; transfer to oven. Bake until meat is falling off bones, about 2 hours. Remove ribs from pan and put pan liquid in saucepot; boil until slightly reduced. Add salt and pepper. Mix butter and flour in small bowl, then whisk into sauce. Boil until thick, about 3 minutes. Add ribs and serve.
Nutrition facts
Kcal: 1403.95 kcal
Fibers (g): 2.42g
Sodium (mg): 3107.13mg
Carbs: 113.19g
Fat: 61.29g
Saturated fat (g): 24.7g
Proteins: 84.83g