Broccoli in Mustard Sauce
Are your kids picky eaters who don't like to eat their greens? This dish, coated in a mouth-watering mustard sauce, will have even the fussiest of eaters lining up for more.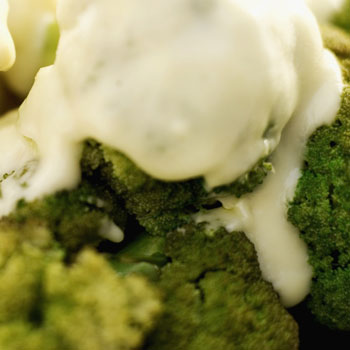 Ingredients
For 1 people
1/2

cup(s)

or more low-sodium chicken broth

1/2

teaspoon(s)

dried thyme

3

cup(s)

broccoli florets

2

tablespoon(s)

sour cream

2/3

tablespoon(s)

flour

2

teaspoon(s)

dijon mustard
Directions
In a medium saucepan, bring the 1/2-cup broth and thyme to a boil over high heat. Add broccoli. Return to a boil. Reduce heat, cover and simmer 5 minutes, or until tender-crisp. Do not drain. With a slotted spoon, remove broccoli from saucepan. Set aside and keep warm. Meanwhile, in a small bowl, stir together remaining ingredients. Stir sour cream mixture into cooking liquid remaining in saucepan. Cook and stir over medium heat until thickened, about 2 minutes. Do not let it boil. Cook 1 minute more, stirring constantly. If sauce is too thick, add more broth, 1 tbsp. at a time, until desired consistency is reached. Return broccoli to saucepan with sauce. Stir gently until well coated.
Find out why family dinners are crucial to happy and healthy children.

4 servings
Nutrition facts
Kcal: 184.92 kcal
Fibers (g): 8.26g
Sodium (mg): 306.66mg
Carbs: 16.07g
Fat: 7.04g
Saturated fat (g): 4.03g
Proteins: 5.73g