Cheese & Potatoes Pork Casserole
One pot meals are great dinner solutions for busy parents with busier kids. This cheese, potato and pork recipe has just a handful of affordable ingredients and can be put together without a lot of effort.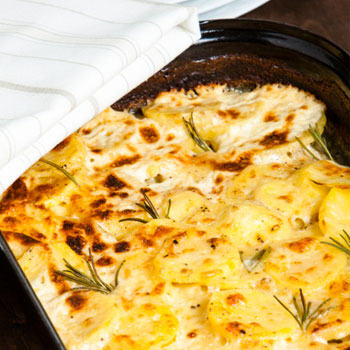 Ingredients
For 3 people
6

pork chops, boneless

2

large russet potatoes, thinly sliced

1 1/4

cup(s)

canned condensed French onion soup

1 1/4

cup(s)

can of condensed Cheddar cheese soup
Directions
Preheat oven to 350 degrees. Spray 9x13-inch baking dish with nonstick cooking spray. Layer potatoes on bottom of baking dish, trying to keep to single layer, but double layer is okay, too. Lay pork chops on top of potatoes. In small bowl, blend the two soups together. Pour over pork chops, trying to cover them evenly with mixture. Bake for 1 hour.
Ready in 1 hour and 20 min
Nutrition facts
Kcal: 847.95 kcal
Fibers (g): 5.22g
Sodium (mg): 1521.89mg
Carbs: 63.51g
Fat: 34.84g
Saturated fat (g): 9.92g
Proteins: 73.11g