Cheese & Pumpkin Dip
Pumpkin brings a rich creaminess and taste of Fall to this decadent cheese dip. Serve with a medley of raw vegetables or crackers.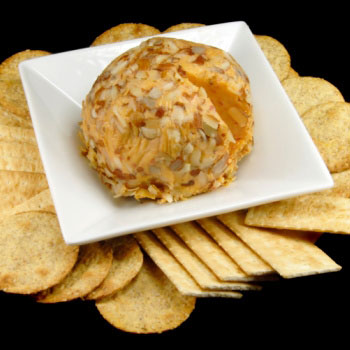 Ingredients
For 3 people
8

ounce(s)

cream cheese, softened

1/2

cup(s)

pumpkin, canned or cooked

1

cup(s)

pineapple, well drained and crushed

2

cup(s)

sharp Cheddar cheese, shredded

2 1/2

ounce(s)

dried beef, finely chopped

1

tablespoon(s)

onion, finely chopped

1

celery leaves

1

mixed raw vegetables
Directions
In a mixing bowl, beat cream cheese, pumpkin and pineapple. Stir in Cheddar cheese, beef and onion. Shape into a ball; place on a serving platter. Score sides with a knife to resemble a pumpkin and add celery leaves for a stem.
Nutrition facts
Kcal: 691.69 kcal
Fibers (g): 6.05g
Sodium (mg): 1443.79mg
Carbs: 28.9g
Fat: 51.47g
Saturated fat (g): 28.43g
Proteins: 34.05g