Cheeseball with Nuts & Bacon
Ready to take your tastebuds for a spin? Combine this roster of great-tasting ingredients together in a blender, and you've got a cheeseball that has plenty of whip appeal. Serve with crackers.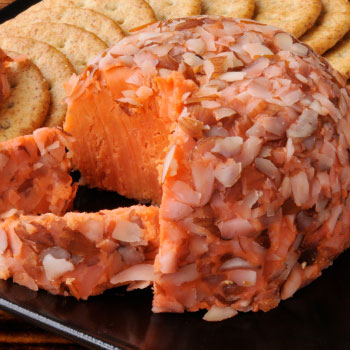 Ingredients
For 10 people
8

ounce(s)

cream cheese, softened

1/2

cup(s)

milk

2

cup(s)

sharp Cheddar cheese, shredded

2

cup(s)

Monterey jack cheese, shredded

1/4

cup(s)

blue cheese, crumbled

1/4

cup(s)

finely chopped green onions

1

(2 oz) jar diced pimiento, drained

10

slices bacon, cooked, drained, finely crumbled and divided

1/4

cup(s)

finely chopped pecans, divided

1

dash(es)

salt

1

dash(es)

pepper

4

tablespoon(s)

parsley, minced

1

tablespoon(s)

poppy seeds
Directions
Beat cream cheese and milk on low speed in large bowl with electric mixer until blended. Add cheeses. Blend on medium speed until well combined. Add green onions, pimiento, half of bacon and half of pecans. Blend on medium speed until well mixed. Add salt and pepper to taste. Transfer half of mixture to large piece of plastic wrap. Form into ball; wrap tightly. Repeat with remaining mixture. Refrigerate until chilled, at least 2 hours. Combine remaining bacon and pecans with parsley and poppy seeds in pie plate or large dinner plate. Remove plastic wrap from each ball; roll each in bacon mixture until well coated. Wrap each ball tightly in plastic wrap and refrigerate until ready to use, up to 24 hours.
Nutrition facts
Kcal: 321.84 kcal
Fibers (g): 0.78g
Sodium (mg): 568.26mg
Carbs: 4.12g
Fat: 26.01g
Saturated fat (g): 13.19g
Proteins: 17.01g