Chicken Creole
Let the good times roll with this mouth-watering meal. Anybody who is familiar with traditional Cajun cooking knows about the goodness of chicken Creole. Justin Wilson would be proud...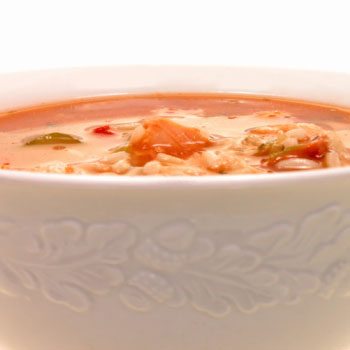 Ingredients
For 4 people
3

to 4 large chicken breasts cut each into 3 smaller pieces

1

cup(s)

oil

1

cup(s)

flour

1

cup(s)

(7 oz.) can Rotel Tomatoes

1

green bell pepper, chopped

1

large onion, chopped

1/2

cup(s)

green onion tops, chopped

4

tablespoon(s)

fresh parsley, chopped

4

garlic cloves, minced

9

teaspoon(s)

Creole seasoning, to taste
Directions
Make a roux by heating the oil in a heavy pot or Dutch oven, add flour gradually and stir until well mixed. Lower heat and continue to watch and stir until it is the color of chocolate brown. This step will take awhile but, you don't have to stand there with it the whole time. Remove from heat. Slowly stir in hot water until contents of pot are about half way up the pot. Place back on fire and bring to a boil. Put remainder of ingredients into pot of roux, lower fire to a simmer and cover pot making sure it does not boil over. Simmer 1 hour adding water as needed. You want to end up with the roux being the thickness of gravy. If chicken is not tender, continue to simmer on low heat until it is fork tender.
Check seasonings and add salt or pepper as needed.
Serve over hot, cooked rice.
Nutrition facts
Kcal: 908.01 kcal
Fibers (g): 2.28g
Sodium (mg): 3455.21mg
Carbs: 30.04g
Fat: 66.09g
Saturated fat (g): 7.31g
Proteins: 48.2g