Creamy Fettucine with Mushrooms
Don't pass on this pasta dish. When you're in a hurry for a satisfying meal, use your noodles and prepare this simple fix that will feed those hungry mouths with this mushroomy dish in no time at all.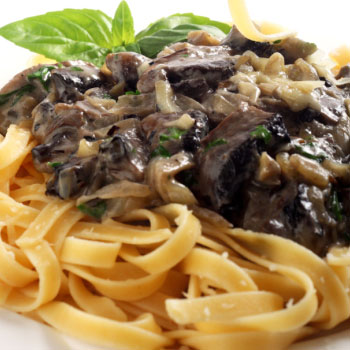 Ingredients
For 6 people
1/3

tablespoon(s)

cornstarch

1

can evaporated milk

8

ounce(s)

cream cheese

8

ounce(s)

mushrooms, sliced

6

scallions, chopped

16

ounce(s)

fettuccine

1

dash(es)

salt

1

dash(es)

pepper
Directions
Mix 1 tsp. cornstarch and 1 tsp. milk in a saucepan. Add the rest of the milk and bring to a boil. Lower heat to medium and slowly add the cream cheese, stirring constantly. Simmer mixture until thick. Add salt and pepper. Saute mushrooms and scallions in a nonstick skillet sprayed with cooking spray. Cook fettuccini according to package directions. Toss cooked noodles with sauce.
Nutrition facts
Kcal: 498.2 kcal
Fibers (g): 3.06g
Sodium (mg): 231.41mg
Carbs: 63.87g
Fat: 18.96g
Saturated fat (g): 10.12g
Proteins: 16.03g