Fresh Tomato Sauce
Make this fresh tomato sauce your number one squeeze. From linguine to lasagna, you can incorporate a batch of this homemade sauce in any of your favorite Italian dishes. It will put those store-bought brands to shame.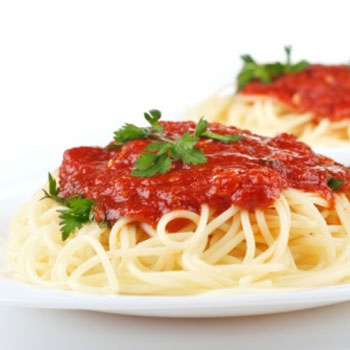 Ingredients
For 4 people
3

tablespoon(s)

olive oil

1

onion, chopped

4

cloves garlic, finely chopped

3

dash(es)

freshly ground black pepper

1

teaspoon(s)

dried or finely chopped fresh oregano

8

fresh ripe tomatoes, chopped

1

dash(es)

salt
Directions
In a medium-size frying pan, heat the olive oil. Add onion and garlic and saute until tender, about 4 minutes. Add pepper and oregano and cook 1 minute more, stirring constantly. Add the tomatoes and simmer for about 15 minutes, until sauce starts to thicken. Add salt to taste. Keep sauce warm until you are ready to serve it over freshly cooked pasta.
Canned tomatoes may have enough salt, but you might want to add 1/2 to 1 tsp. salt if using fresh tomatoes.
Nutrition facts
Kcal: 167.91 kcal
Fibers (g): 5.12g
Sodium (mg): 54.47mg
Carbs: 17.79g
Fat: 10.85g
Saturated fat (g): 1.56g
Proteins: 3.35g