Fried Shrimp
Here's a shrimp dish that's really kicking. Full of flavor, this appetizer is swimming in gourmet goodness. A great staple for most parties.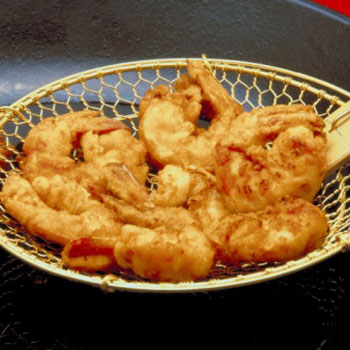 Ingredients
For 4 people
3

tablespoon(s)

mayonnasie

1

tablespoon(s)

butter, room temperature

16

tablespoon(s)

sweet chili sauce

16

ounce(s)

fresh shrimp, shelled and deveined

8

tablespoon(s)

seafood breading

2

tablespoon(s)

olive oil

1/2

teaspoon(s)

crushed red pepper, to taste
Directions
Mix mayonnaise, butter and sweet chili sauce in a bowl until blended; set aside. Lightly coat shrimp with seafood breading. Shake off excess and deep-fry shrimp in olive oil with crushed red pepper for approximately 3 minutes. After removing hot shrimp from oil and draining on paper towels, add to sauce mixture and toss to coat.
Cooking time: 5 minutes
Related Recipes:
Looking for more shrimp dishes with plenty of a-peel? Check out these dishes that make for a shell of a meal:
Mongolian Shrimp
Spicy Grilled Shrimp
Louisiana Marinated Shrimp
Nutrition facts
Kcal: 430.09 kcal
Sodium (mg): 1752.02mg
Carbs: 44.19g
Fat: 18.5g
Saturated fat (g): 3.97g
Proteins: 19.46g