Healthy Hot Breakfast Cereal
Some like it hot... and those who do will love this healthy breakfast cereal. It's a great power booster for anyone looking for a heart smart way to start the day.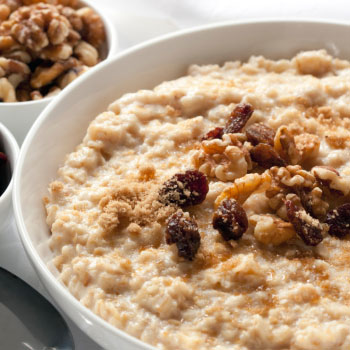 Ingredients
For 4 people
48

floz

water

1/2

cup(s)

brown rice

1/2

cup(s)

pearl barley ,rinsed thoroughly

1/2

cup(s)

quick cooking oats

1/2

cup(s)

bulgur wheat (cracked wheat)

1/2

cup(s)

chopped pitted dates

2

tablespoon(s)

packed brown sugar, Additional brown sugar, if desired

1

tablespoon(s)

butter or margarine

1/2

cup(s)

chopped walnuts
Directions
In a large pan over medium-high heat, bring the water to a boil. Add in the next 7 ingredients; stir to mix. Lower heat to low and simmer, covered for approximately 40 minutes or until grains are tender and water is absorbed, stirring occasionally. Sprinkle with walnuts and a little more brown sugar.
Nutrition facts
Kcal: 367.24 kcal
Fibers (g): 8.47g
Sodium (mg): 141.77mg
Carbs: 55.52g
Fat: 13.55g
Saturated fat (g): 2.92g
Proteins: 7.33g