Homemade Red Beans
Looking to add some spice to your life? Look no further. You'll be a ragin' Cajun with these homemade red beans that are a taste of New Orleans. Just add hot sauce for an extra kick.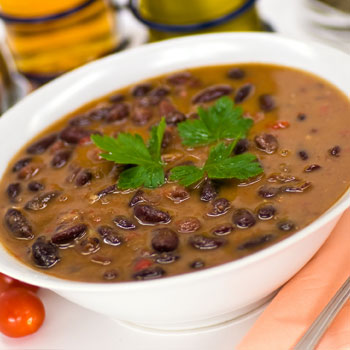 Ingredients
For 6 people
1

pound(s)

dry red beans

8

cup(s)

water

1 1/2

cup(s)

onion, chopped

1

cup(s)

celery, chopped

4

bay leaves

1

cup(s)

green peppers, chopped

3

tablespoon(s)

garlic, chopped

3

tablespoon(s)

parsley, chopped

2

teaspoon(s)

dried thyme, crushed

1

teaspoon(s)

salt

1

teaspoon(s)

black pepper
Directions
Pick through beans to remove bad ones. Rinse beans rinse thoroughly. In large pot, combine beans, water, onion, celery, and bay leaves. Bring to boil. Reduce heat, cover, and cook over low heat for about 1 1/2 hours or until beans are tender. Stir. Mash beans against side of pan. Add green pepper, garlic, parsley, thyme, salt, and black pepper. Cook uncovered over low heat until creamy, about 30 minutes. Remove bay leaves. Serve with hot cooked brown rice, if desired.
Nutrition facts
Kcal: 59.08 kcal
Fibers (g): 2.82g
Sodium (mg): 553.83mg
Carbs: 12.1g
Fat: 0.13g
Saturated fat (g): 0.04g
Proteins: 2.82g